GTX Spectrum
is a broad-spectrum breathalyzer – it measures from zero up to 4 per mille. It is an electrochemical breathalyzer with a platinum alcohol sensor, which guarantees reliable measurement with low error.
The breathalyzer itself controls the correct functioning and the correct course of the sobriety check. The result is shown on a contrasting, clear display.
Slim and small, in a tastefully designed housing made of durable plastic.
The breathalyzer is calibrated before packing and ready to use right out of the box. Also included are hygienic mouthpieces for repeated use by several people.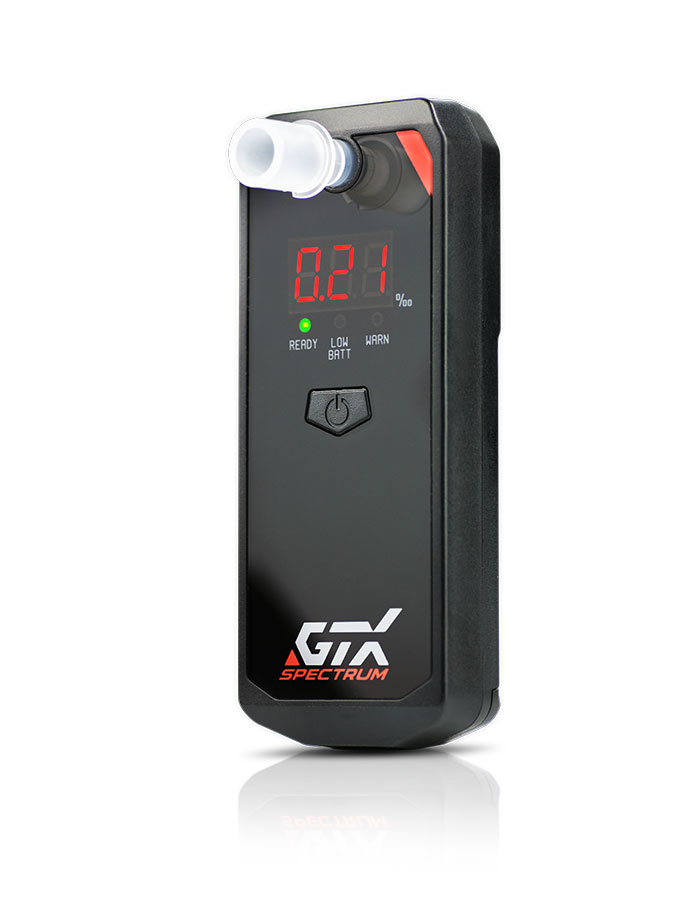 Technical Specification
indications: 0,00 ~ 4,00 ‰
accuracy: +/- 0,06‰ przy 0,5 ‰ w 25°C
sensor: elektrochemiczny
power supply: dwie baterie alkaliczne AAA 1.5V
Dimensions (W/HV/D):43x110x19 mm
weight: 76g z bateriami
calibration: co 12 miesięcy lub co 500 pomiarów
Required mouthpiece: tak
other: sensor self-testing
battery level control
airflow control
temperature protection
Calibration
Calibration is a concept inherent in any breathalyser. It means that every 12 months or 500 measurements, the breathalyser must be re-calibrated. configure it to correctly interpret the wear indicator you're getting the sensor.